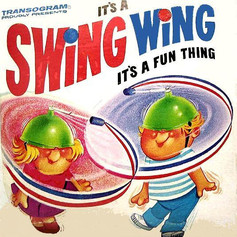 Swing Wing
was introduced by
Transogram Games in 1965. Basically it involves wearing a plastic cap on your head, with a ribbon attached to the top. The aim of the "game" is to move your head in a circular motion, so that the ribbon spins around. That's about it really, nothing more to it than that. Kids were obviously much easier entertained in the 1960s.

Swing Wing is pretty much an exact copy of the traditional Korean ribbon hat (sangmo), used as part of Pungmul, traditional folk music performances. Begs the question, did the designer of Swing Wing spend time in Korea during the Korean War possibly.
In the recent Weird Retro

compilation video

it featured clips from the original Swing Wing commercial from 1965. Check out the original commercial here, looks like this maybe where the idea of the "swinging" 60s first raised its head.

Each month, Weird Retro will bring you a small insight into a weird and wonderful toy of the past. If you have any suggestions for featured toys, just let us know in the comments section below.