Plastic Fantastic: Ben Cooper Halloween Costumes

| | |
| --- | --- |
| | Who knew that one of the icons of Halloween in America would be made-up of a plastic bag and a cheap mask, tied on with a piece of elastic? But that's what happened, at its pop culture peak in the 70s and 80s the manufacturer of cheap kids Halloween costumes that featured popular TV, movie, cartoon characters and cultural heroes of the day became a cultural icon in itself. Beloved of many a Gen-Xer, Ben Cooper costumes epitomize and recall a confluence of childhood memories, the joys of the Halloween holiday, Trick or Treating in a costume emblazoned with whoever or whatever was your favourite character was that year. No longer limited to the archetypal Halloween characters of Dracula, a witch or a bed-sheet with eyes cut-out. Kids could dress in anything from The Beatles, a character from the TV show Happy Days, movie mutt Lassie or Tv's Rin-Tin-Tin, or possibly even a Rubik's Cube is that's what took your fancy that particular year. The Ben Cooper costume has rightly taken its place among the cultural kitsch of yesteryear. |
Ben Cooper founded his business in 1937, in Brooklyn, New York. At first producing Disney character costumes under license. Disney at the time was a little animation company, on the verge of making cinematic history with its feature film Snow White. The company quickly gained success, and by the 1940s was the main manufacturer of Halloween costumes in America. They sold large and cheap, a costume retailing at as little as a $3 to even as low as $1.25.

During the 1960s and 1970s the company was one of the biggest costume designers and manufacturers, famed for its quick turn-around on licensing popular movie and TV characters of the time and getting them on the shelves for kids to wear. The company was the first to get some of the most iconic characters in American pop culture on the shelves, for kids to wear. Over time it produced so many costumes, that they became to touch-stone of American culture, a who's who of crazy characters who may have been all but forgotten to the garbage sack of history if it wasn't for being immortalized on a printed 'bin-liner' and inexpensive plastic mask.

Some of the characters that Ben Cooper astutely acquired the license to was the likes of Spiderman in 1963, a little known comic book character that only made his first appearance the year before in Amazing Fantasy #15 (August 1962). The deal between Marvel and Ben Cooper, was to help secure Spidey in the hearts and minds of generations. It was Marvel's first ever marketing and licensing deal. Ben Cooper managed to get the rights to produce many weird and wonderful characters, some more successful and memorable than others. In 1964, it go the rights to Batman, only 2 years before the campy Caped Crusader would hit our TV screens. However one of the company's smartest moves was getting the license to a little sci-fi fantasy movie called Star Wars. Perhaps there is a direct link between the Star Wars costumes produced by Ben Cooper, and the geek cosplay fashion that still persists among many hardcore Star Wars fans of dressing up as their favourite characters.

Eventually the bubble burst. Partly the company were hit by the panic over the

Chicago Tylenol murders

, which happened just before Halloween in 1982. That year protective parents kept their kids in, fearing poisoned Trick or Treat candy, as panic spread along with an urban legend of wild-fire proportions. Then heading into the late 80s and early 90s, costume choices and kids tastes became more sophisticated. No longer happy with a plastic bag and cheap mask, kids saw through the shoddy costumes wanting more realistic versions of the inexpensive ones Ben Cooper was still piling high on the shelves. Eventually Rubie's Costume Company, today one of the biggest costume makers probably in the world, bought out Ben Cooper. Rubie's was following the new trend of high quality costumes and latex masks that persists to this day. However there is still something wonderfully kitsch about a vintage Ben Cooper costume.

Now Ben Cooper costumes have become highly collectible items, some key characters exchanging hands for a lot more than the original few dollars. A 1974 Evel Knievel mask went for $125 in 2000, and in 2008 a 1964 Lily Munster deluxe mask and costume sold for $210.
---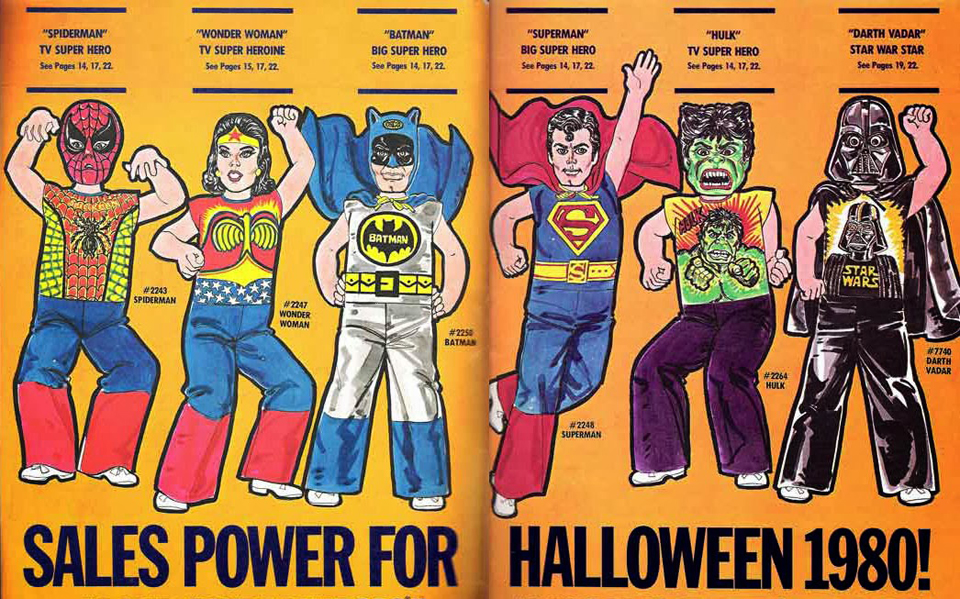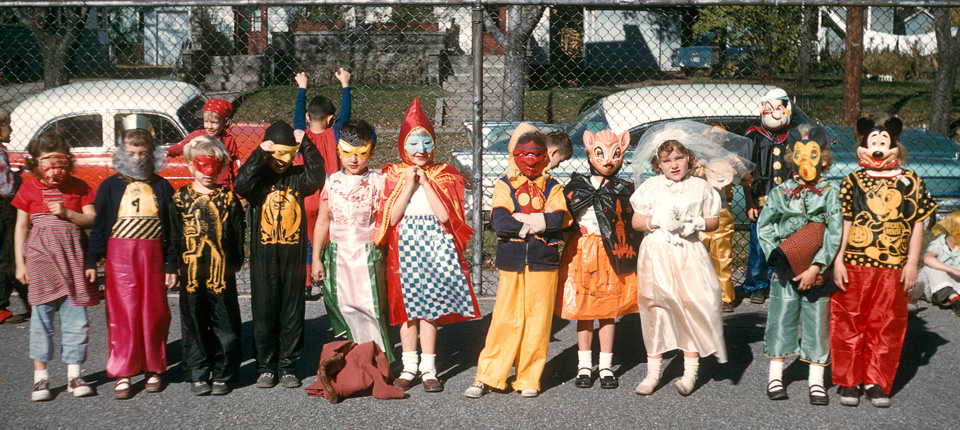 ---
---
---
---