Go Fuck Yourself! The Ultimate Time Travel Paradox In Sci-Fi

There are science-fiction writers that have gone beyond the Grandfather Paradox, into much darker realms of possibilities through time travel. The paradox, in the simplest terms describes the impossibility of killing your own grandfather, which would negate your existence, so and mean you were never born to go back in time and kill your grandfather. So your grandfather lives, and you are born. Repeat! The paradox has been an ongoing philosophical thought experiment since it was first proposed by

Nathaniel Schachner

in his short story Ancestral Voices (1933), and by

René Barjavel

in Le Voyageur Imprudent (1943).
Consider now, not the murdering of your "grandfather" to negate your existence, but the meeting of your grandmother to create yourself. As in the Futurama episode from 2001 called Roswell That Ends Well, where Fry accidentally causes the death of his grandfather before he meets his grandmother. Only then to be seduced by his grandmother as a young woman, has sex with her, and ends up being his own biological grandfather.
Messed up?
There are science-fiction writers that taken that premise even further. How about having sex with yourself? How about being both of your own parents? These are two possibilities that two noted science-fiction writers have explored in well known works.
Robert A. Heinlein examined this much darker possibility of time travel in his short-story '-All You Zombies-' in 1958, and
David Gerrold in his 1972 novel The Man Who Folded Himself. WARNING: This article does contain spoliers
The story of The Man Who Folded Himself starts with, "In the box was a belt. And a manuscript." Thus putting you the reader at the very centre of the story from the get go. Your experience as the reader is channelled through Dan, who in 1975 inherits the timebelt from his Uncle Jim when he dies, along with the manuscript. Before his death, Jim had made Dan promise to keep a diary, and the story unfolds from there. Dan travels back and forth through time, encountering himself at various points in time and seemingly in parallel universes, as he has a relationship with himself. As he jumps around through time, he finds he has erased his past. A spend a lot of time in 1999, in a hotel "he" built, and inhabited by versions of "him". Then one day he encounters Diane, a female version of himself, with who he has a child. The couple break-up, and Dan raises his son in the 1950s. It eventually becomes apparent that his son, is in fact him, and he is his own Uncle Jim. Completing the time circle. He inherits the timebelt, and the manuscript

(his own completed diary)

, and must decided to follow his life path as laid out in the manuscript, bring us back to the grandfather paradox.

The Man Who Folded Himself earned

David Gerrold

a nomination for the

Nebula Award

for

Best Novel

in 1973 and the

Hugo Award

for

Best Novel

in 1974. He had previously written, among other things, one of the most famous episodes of the original Star Trek series, The Trouble With Tribbles. Which was aired in 1967, as part of the second season of the TV show.
Earlier in his 1959 published short-story '-All You Zombies-''

Robert A. Heinlein, took the notion of sex with yourself to a whole different level of strange. The starts with a narrator, a barman in 1970, who it turns out is also a time-travelling agent. A man enters the bar, an writer, who is known as

the Unmarried Mother, because he writes stories for

confession magazines

, as a woman. When cajoled into explaining how he can write from a female perspective by the barman, he confesses that he was born a girl in 1945, and left at an orphanage. Aa a young woman she got pregnant to an older man. After giving birth it was discovered by the doctors that she was intersex. Complications in the birth, resulting in surgery that forced a sex change. You can almost guess the rest, but maybe not! As the barman is also him/her, after a time-travel incident that required facial reconstruction. Everyone in the story is the same person, and as the protagonist says at the end, "I know where

I

came from—but where did all you zombies come from?" Giving the short-story its seemingly nonsensical title.

The story that many considered couldn't be made in a movie, was adapted for the screen in the Australian movie Predestination (2014), starring Ethan Hawke and Sarah Snook. The movie did a good job of translating the paradoxical story to film, and garnered positive criticism, as well as being nominated for and winning a number of awards in Australia.
While digging around for this article, I came across this timeline graphical explanation of '-All You Zombies-'. However it is nest only understood if you have either read the story or seen the movie adaptation.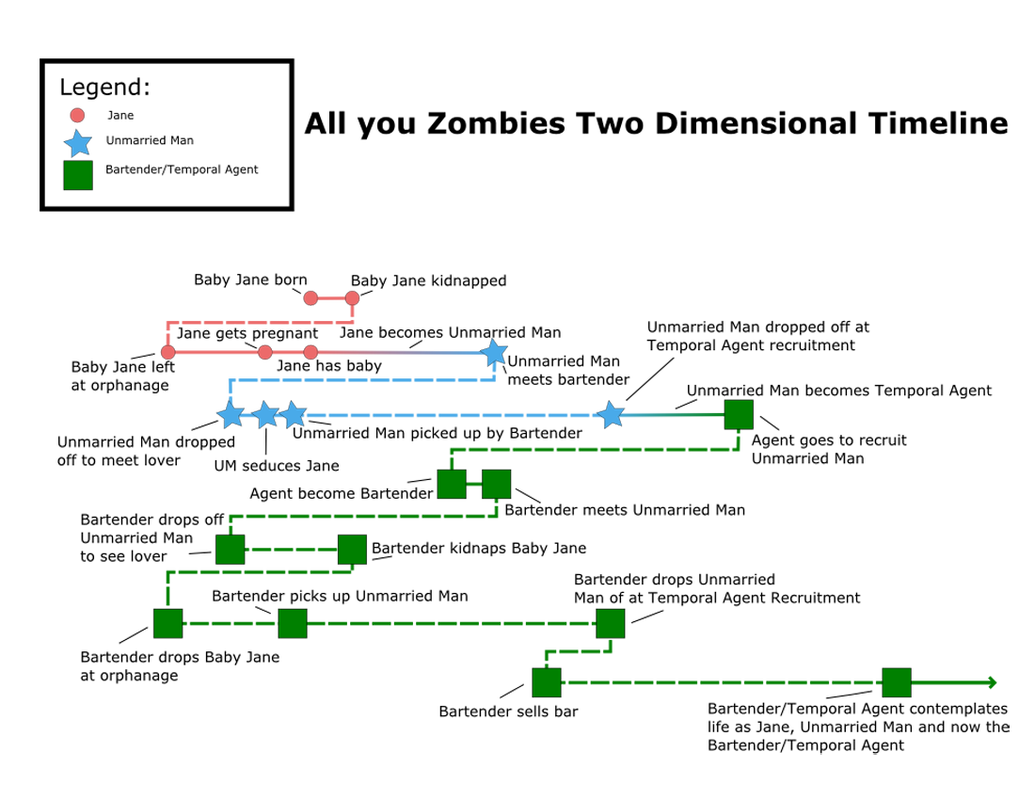 ---
---
---
---