Scanner: Head Exploding Punk Rock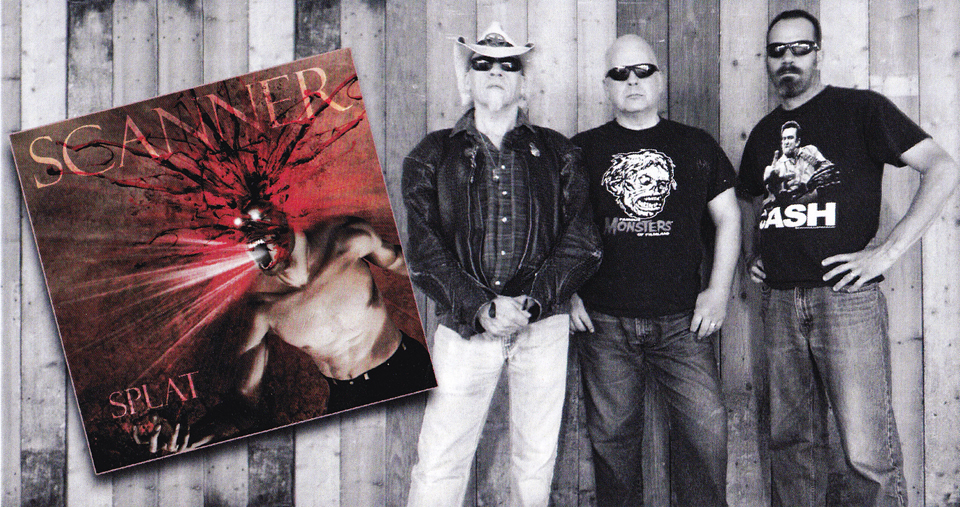 Hailing from Central Pennsylvania, Scanner first exploded onto the punk scene in 1979. With their darkly sardonic blend of horror rock, 60s surf and garage influenced punk rock, almost 40 years on they are still a band to be reckoned with. They maybe greying around the edges, but where most punk bands of the 70s are resigned to rocking on their porches in comfy slippers, Scanner are still thrashing out edgy 2 minute punk classics. Proving that growing old disgracefully, is the true heart of punk rock. Scanner could teach many of the preening punk posers of today a thing or two about what the meaning of punk, and its history that reaches back into grassroots rock and roll of the 50s, through the hardcore garage punk and surf of the 60s, through to thrashing 3-chord mayhem of the late 70s.
| | |
| --- | --- |
| | The band originally formed by Joe Brady (bass & vocals) and Junnie Fortney (guitar & vocals), Scanner got their name from an article Joe read in a monster magazine about the release of David Cronenberg's now cult horror movie Scanners. He liked the imagery of the exploding heads and thought that was the effect Scanner's music should have on listeners. The band toured throughout the Central Pennsylvania, Maryland, and Washington D.C. areas. Bringing audiences their unique mix of 50s rock and roll, 60s hard rock, surf, and 70s glam rock and punk. In 2012 Scanner reunited with Brady and Fortney being joined by Troy Alwine on drums. The band headed into the studio, to record material that stretched back to their early days. Releasing "One Foot In The Grave, And More Pissed Than Ever" in 2013. |
The album was critically well received, with one reviewer describing the album as

"...one of the best pure punk rock efforts to surface in recent years and you really wonder why these guys didn't become as big as some of their influences."

Scanner followed up the success of the album with the release of a live album of old material, with "Exploding Heads in Harrisburg - Live Recordings From 1982", in 2014.

Joe also released an EP with Losers After Midnight, entitled "Monsters Axes & Choppers", and produced and released the critically acclaimed "Assault & BATtery" a benefit compilation album for Bat World Sanctuary in 2014.

In mid-2015, the Scanner boys will be taking listeners on a twisted carnival ride, tour de force of many of their influences, including glam rock, horror, punk, and even dark country with the release of their third album entitled "SPLAT". The new album has all of the elements Scanner fans have come to expect: blistering guitar work, dynamic percussion, and passionate, raw vocals.
---
"This isn't just a punk band. Scanner is also a band of very talented individuals who have been making music for decades and know exactly what they're doing." - Rhonda Readence, Freelance Music Critic

---
Scanner: Splat (2015) Album Review
After I wrote the article about Scanner earlier this year, the guys asked if I'd review their new album Splat. There on the doormat this morning, arrived a package from America, containing the new album with it's stunning cover artwork by Dan Verkys and an awesome Scanner T-shirt. I hit up town, to grab some stuff I needed, decked out in the new T-shirt. In the book store, I got a "cool T-shirt dude" from the long haired rocker behind the counter. Back home, beer in hand, it was time to check out the new album.

Splat kicks off with the literal fisting pumping, foot stomping proper old school style punk anthem "Fist in the Air". From the very opening chord, this song like the band themselves, wears its original 1970s punk credentials with angry pride. Then suddenly we turn down a dark rain drenched alleyway, and walk straight into the horror punk of Just Like Bela. As if that wasn't enough to scare the bejesus out of you, the nihilistic lyrics of Living Life to the Emptiest, will have you reaching for that mass-produced hand-gun you got from Walmart.

As its no-hope anti-consumerism message proves that Scanner can cut a track ever bit as politically edgy as their PA band fellows anarcho-punk Anti-Flag. The first of four covers on the alum Straight Jacket, originally recorded by the Australian rock band The Angels in 1980, is a stripped down, straight to the point version. That for me, is a more raw and honest version, than the original. (I'll be honest I had to go back and listen to The Angels version, after hearing Scanner's cover. And side-by-side, not blowing smoke up their ass, but Scanner nailed it!) The track Biker that follows, I guess everyone has to have their least favourite track on an album, and for me Biker didn't take me anywhere. But then again, the nearest I've been to being a biker is riding a scooter around the country lanes of England. But hey, that was all forgotten when the politics returned and Letter to the Government, kicked my, and the American Government's ass back into gear.

Half-way through, and it's already been a roller coaster ride of an album. And it does let up with Running Riot, a cover of the British streetpunk band Cock Sparrer's 1977 single. With Ghost Song, Scanner go back into the darkness, which had a definite touch of early 80s British goth rock about it. Then I am an old goth at heart, and a sucker for any cut from the dark-side that has bells of doom chiming in it. Queen of the Stage, garage/punk, with a sprinkle psychobilly in the lyrical delivery. Ten tracks in and we're treated to Bowie's classic Sufragette City getting a guitar driven make-over. A song that's been covered by numerous bands, with Scanner doing a stand-up job, that can sit proudly among some of the best covers I've heard of Sufragette City.

Yeah We Suck, is all tongue-in-cheek rock mayhem, as you realise that the one thing Scanner don't do is suck, or take themselves too seriously. Then we're finally treated to the title track of the album, and the penultimate track, Splat. With its driving guitar interspersed with a hint of a mid-80s indie rock guitar solo, it's well worth the wait. Kaw-Liga, a Hank Williams cover, is a crazy piece of punk goes country, that on paper shouldn't work. But is not only one of my favourite songs on the album, it's the song you'd walk out of a gig humming to yourself. After they'd cranked it up for an all out big sing-along encore, to leave their audience on a high and wanting more. Boom! And there you have it, Scanner have created a whole album that proudly wears its wide ranging influences and credentials on its sleeve. But is an album that sits track for track as the work of a highly accomplished, polished and above all a well musically matured band, that know exactly who they are and what they want to say.
---
---
---