The hoax of Krevax came about when a message was distributed on Usenet, the early form of the Internet, that was a worldwide network discussion board system. The message announced that the Soviet Union was joining the network. This generated enormous excitement, since most Usenet members had assumed that cold war security concerns would prevent such a link-up ever happening. The creation of Kremvax was announced in a post that appeared on April 1st, 1984, as was said to have originated from the then
Soviet
leader
Konstantin Chernenko
. The message created a flood of responses, but two weeks later its true author, a
Dutch
Internet pioneer named Piet Beertema, revealed it was a hoax. It is credited with being the first hoax on the internet. The fictitious
Usenet
site at the
Kremlin, along with other fictitious sites
moskvax and kgbvax. The actual origin of the email was mcvax, one of the first European sites on the internet.
Six years later Usenet was joined by D
emos.su
, the first genuine site based in
Moscow
. Some readers needed convincing that the postings from it were not just another prank. Vadim Antonov, the senior programmer at Demos and the major poster from there until mid-1991, was quite aware of all this, and referred to it frequently in his own postings. Antonov later arranged to have the domain's gateway site named kremvax.demos.su, in honour of the hoax.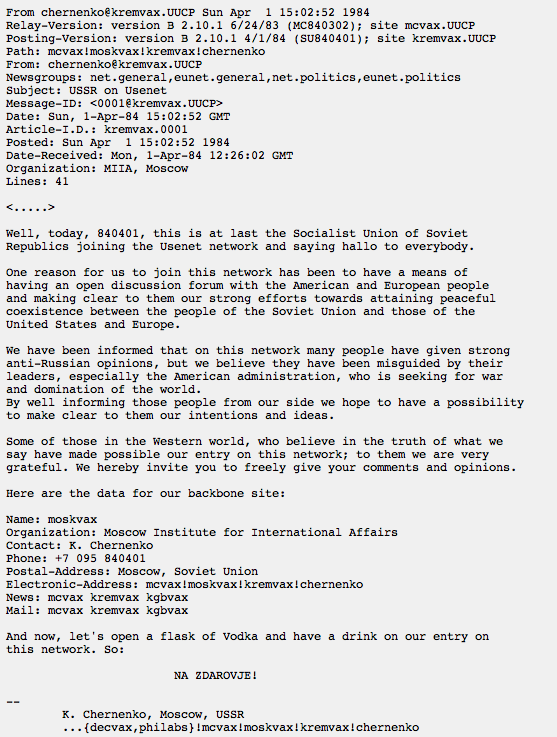 Weird Retro Fact
: Another pre-Weird Wide Web urban legend related to computing is that of Polybius, a mythical arcade game that supposedly appeared briefly in a number of arcades in the Portland, Oregon area in the early 80s. Read the full story:
The Creepy Legend Of The Arcade Game Polybius
.
Weird Retro Fact
: A gaming legend that exists to this day, is that of Sheng Long, the non-existent hidden character from the Street Fighter series of games. Sheng Long started out as a mistranslation, in the game text, was picked-up as a April Fool's gag and has lived in gaming legend ever since. Read:
You Must Defeat Sheng Long To Stand A Chance
. Another gaming urban legend from the 80s, is that of the deaths caused by playing the arcade game Berzerk. Read the Captain's Blog post
Retro Gaming: Bezerk Death
.