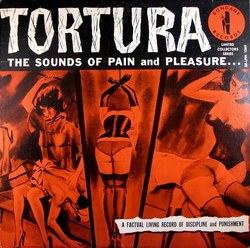 Tortura: The Sounds of Pain and Pleasure (1965) is a bizarre two album series of faked bondage and torture sounds. The first album is subtitled 'A factual living record of discipline and punishment', while the second is 'an evening with the Marquis De Sade'. Produced by a label called Bondage Records. The numbered tracks are all between a minute to a minute and a half long. Listeners are treated to the sounds of whips being cracked, moaning, groaning, screams, laughter and cries of pleasure and pain. Whether you'll be crying or laughing after your ears have been tortured by these weird rarities is another matter. A bunch of weird an wonderful LPs were produced during the 60s, but this must be top of the list.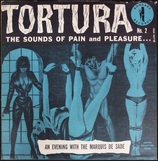 The Tortura albums have gain a cult status, with original vinyl copies exchanging hands for upwards of $100. Also the short tracks have become popular among DJs looking for that particularly bizarre sample to add to their mixes. Apparently a limited edition pressing, little more is known about these strange albums. Making them cult classics among the collectors of the weird.
Sample for yourself the delights of Tortura
here
.